ClearCom, Inc., in partnership with The Blue Book Network, will be hosting a multifaceted open house and networking event on Wed., Oct 12, from 4:00 pm to 7:00 pm. 
"We look forward to the opportunity to showcase our Caledonia office and connect with area leaders, industry experts, and others," shares ClearCom's Business Development Director, Chad Schulman.
Event co-host, The Blue Book Network, is the largest and most active network in the commercial construction industry. Schulman expects a sizable contingent of Blue Book participants and other influential figures from the construction industry.
"We are happy to work closely with such a well-known and connected organization," Schulman added.
This event will feature and highlight several organizations and companies, along with opportunities to rub shoulders with area professionals.
"We consider it a great honor to collaborate with such outstanding local partners and to have the chance to connect them with our customers and our community," states ClearCom President Dave Grebertz.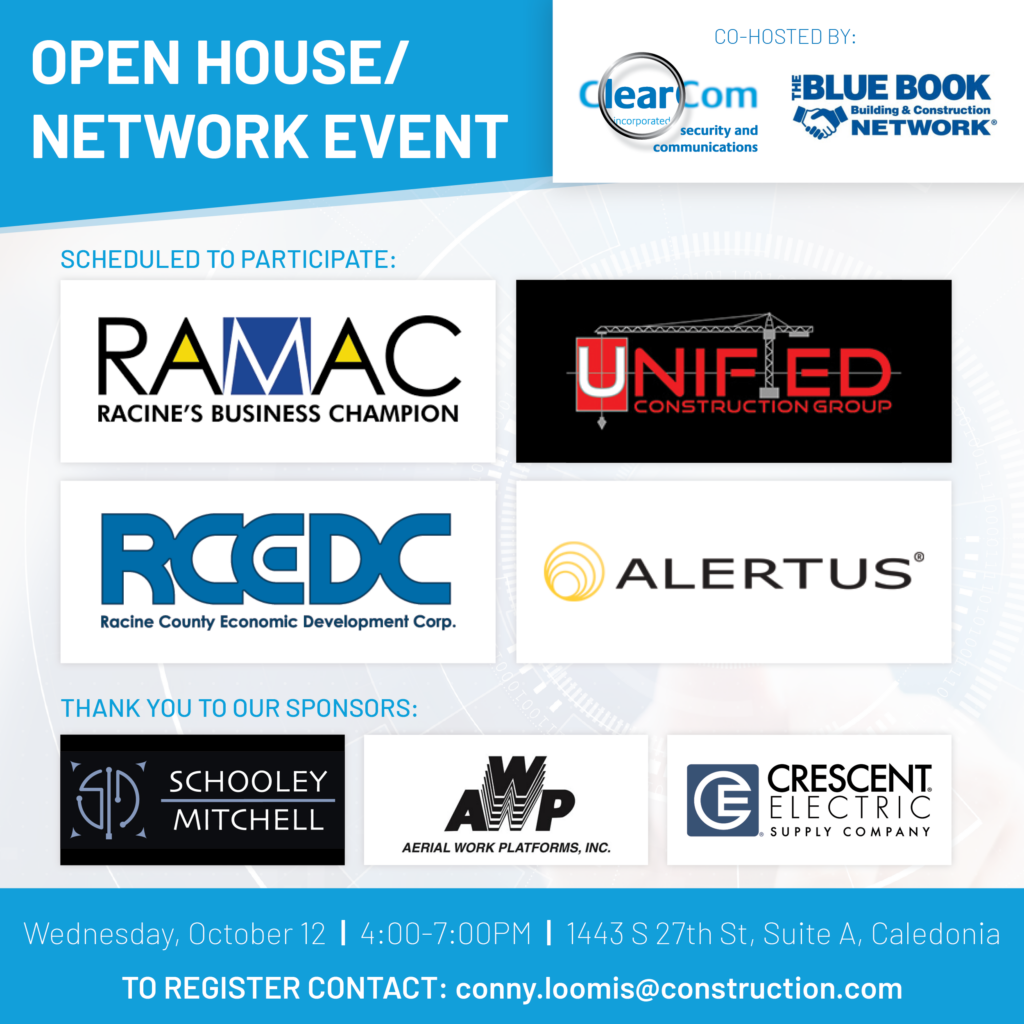 Presenting companies:
RAMAC (Racine Area Manufacturers and Commerce) represents the shared interests of all organizations in Racine, whether small or large, industrial or retail, for-profit or not-for-profit.
RCEDC (Racine County Economic Development Corp.) is an organization dedicated to providing Racine County businesses with the necessary resources to execute an expansion, relocation, finance, or talent recruitment project.
Event attendees will also have the opportunity to meet with representatives from Unified Construction Group and Alertus, along with event sponsors Schooley Mitchell, AWP (Aerial Work Platforms, Inc.), and Crescent Electric.
Unified Construction Group is an industry leader in pre-construction, general contracting, design/build, construction management, and real estate development. Their portfolio includes renowned projects around the region, including entertainment venues, industrial facilities, and retail establishments.
Alertus Technology is a prominent provider of unified mass notification systems in the security industry, allowing its clients to remain safe and secure in the case of an emergency.
"There will be a staggering amount of connections and information available," according to Schulman. "This is a fantastic opportunity for those in the building industry in southeast Wisconsin."
Sign up and register today by emailing 

[email protected]


Mark your calendars today for Wed., Oct 12, from 4:00 pm to 7:00 pm,
at 1443 S. 27th St., Suite A, Caledonia.